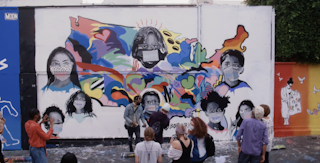 BOURN KIND
BOURN KIND
A Black- Jewish artist confronts division through art to spread kindness in his community.
Bourn, a Black and Jewish street artist decides to confront the fear and isolation of the pandemic and the Black Lives Matter movement through his art. He realizes that we are no longer seeing one another, so he creates an interactive street art mural project to celebrates kindness and connection within his community.
Tiny Kindness is a film, social activism project and street art campaign, and built-in activation that explores the theme of connection and kindness, through the power of art and the work of artist Born Rich. In the film and real-life companion mural campaign, we are creating.